Flat Roof Contractors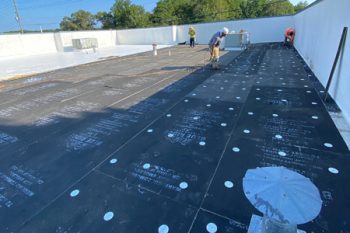 Flat roofs are an excellent choice for commercial buildings because they are durable, reasonably easy to maintain, and cost-effective. However, there are different types of flat roofing, and there is no one-size-fits-all solution. Some flat roofing systems require more upkeep, while others can last upwards of 20 years before they need to be replaced. To avoid costly mistakes and ensure your roof lasts as long as possible, you should hire an experienced commercial roofing contractor who knows the ins and outs of flat roofing solutions. A good contractor will also help you choose the right material for your project and make sure it's installed correctly.
At Mid Atlantic Roofing Systems Inc, we provide reliable commercial roofing services for the residents of Winston-Salem, North Carolina and the surrounding areas. Our professional roofing company strives to provide the quality workmanship you need to ensure the peace of mind you deserve with every roofing project we do. With our many years in the roofing industry, you can rely on us for all your commercial roof repair, replacement, and installation needs. Whether you have flat or sloped roofs, we'll get the job done right!
Flat Roof Repair
While flat roofing systems are reliable, they will eventually develop problems over time, just like any other type of roofing. As a business owner, it is essential that you have a roof inspection performed regularly so you can quickly address these issues before they cause more serious damage. Most flat roofing systems that fail prematurely are caused by a leaky roof that is not detected early enough. Water intrusion causes the materials that make up flat roofs to deteriorate quickly, which leads to water damage and even total system failure if left unattended for too long.
The best way to protect your investment is by choosing a reliable commercial roofing company like Mid Atlantic Roofing Systems. We have been serving clients throughout Winston-Salem, North Carolina, with professional service at affordable prices for many years! We are your go-to roofing expert for all your flat roofing repair, replacement, and installation needs. Call us today for a free estimate!
Flat Roofing Materials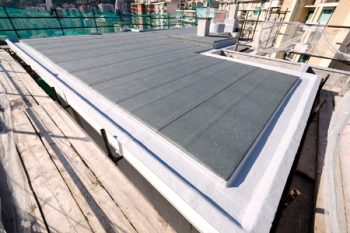 Many companies offer services for flat roofs, but not all of them have the experience required to get the job done right, or they may use cheap materials that aren't long-lasting or safe. At Mid Atlantic Roofing Systems, we utilize the highest quality roofing materials for every job we do, so we always feel confident providing our clients with excellent warranties. Whether we're installing a TPO (Thermoplastic Polyolefin), PVC (Polyvinyl Chloride), or EPDM (Ethylene Propylene Diene Monomer) flat roofing system, you can rest assured that our team of reliable roofing contractors will get the job done right the first time.
We have years of experience in all aspects of flat roof replacement, installation, and repair from design through completion, so you can have peace of mind knowing we will complete your project on time and within budget!
Commercial Flat Roofing
Flat roofs are the most common type of roofing system used in commercial buildings. However, not all flat roofs are created equal. The quality and durability of the roof will depend on its design and construction. There is no single solution for every building! A good roofing contractor will offer you several options to ensure that you get the best possible product for your property.
If you are a business owner considering flat roof installation, don't hesitate to call Mid Atlantic Roofing Systems. We are a qualified roofer in Winston-Salem, North Carolina, with a focus on excellent customer service. We are happy to answer any questions you may have and offer free estimates for all of our services. Give us a call today to get started!