Exterior Painting Services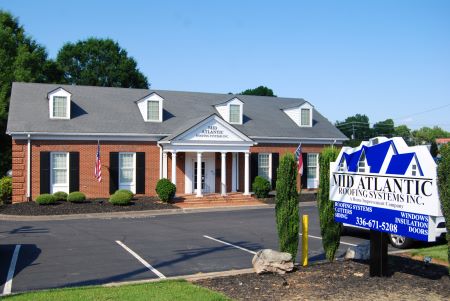 Here at Mid Atlantic Roofing, we aren't just professional roofing masters. We also provide a wide range of other services. We don't stop at repairing or replacing your roof and gutters. We handle more than siding and windows. We can even tackle your commercial and residential painting projects. If your home or business needs a new coat of paint, we can get it done; no need to bring in a separate painting company. Just like our roofing services, we work rain or shine year-round.
We have a team of experienced painters who can handle any project, from a small office to a large apartment complex. We use high-quality paints and materials and are always up-to-date on the latest painting techniques. We know just how important exterior improvements can be for a business, so we always ensure we're doing the best work possible.
Home Painting Experts
Whether you need interior or exterior painting for your commercial business, Mid Atlantic Roofing is the company to call. We're your one-stop shop for all your roofing and painting needs—no matter what kind or amount of improvement your property needs, we can help.
Mid Atlantic Roofing is a full-service roofing company that also provides professional paint jobs for residential customers. If your home needs a fresh coat of paint, we can help you make it look new again. Our team of experienced painters will work with you to choose the right colors and finishes for your home, and we will complete the job promptly and professionally.
Top-Notch Interior Painting
We'll paint the inside of your home or business as well. We'll bring the same level of quality workmanship to any part of your property that needs a paint job. If you're a business owner looking to repaint your property at a reasonable price, a commercial painting project from Mid Atlantic is the best way to go. On top of our century of combined experience in roofing, we're also experienced painting contractors. We know how revitalizing a few coats of paint can be. Nobody wants to do business with a company that doesn't keep up appearances. So, impress your commercial clients and keep your business looking fresh with a new paint job.
We know how important it is to have a property that looks its best, and we're dedicated to providing our customers with the highest quality services at the most reasonable prices. Whether it's a simple coat of fresh paint or a whole new roof, we've got you covered. Mid Atlantic Roofing is your one-stop shop for all your roofing and painting needs. So if you're looking for quality, affordability, and convenience, look no further than us! Contact us today to learn more about our services and how we can help you achieve your vision for your property.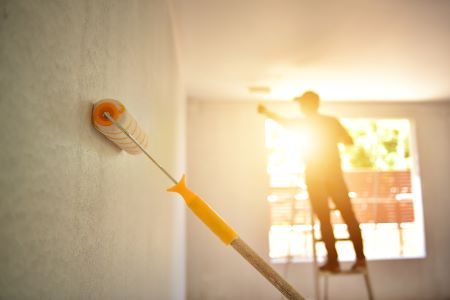 Professional House Painting
With our many years of experience in painting and affordable prices, you can't go wrong hiring Mid Atlantic to handle your house's new paint job. We're commercial and house painting professionals, and we strive for complete customer satisfaction in all our work. Our team of experienced painters is skilled in a variety of painting techniques and can provide a finish that will meet your specific needs. We understand that every job is different, and we will work with you to ensure that the final product is exactly what you envisioned.
We're eager to add yet another satisfied customer to our list. Give us a call for cost quotes and more details on our residential and commercial painting services. Our steadfast dedication to client satisfaction and competitive prices will bring the results you want no matter the project type.