Roof Replacement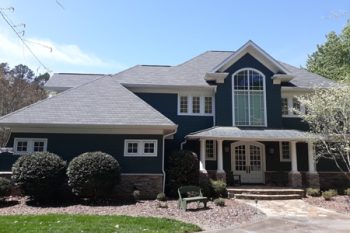 If you are a home or business owner, then you know how important it is to have a reliable roof as it is your main source of insulation and protection from the elements. Unfortunately, roofs can start to deteriorate over time due to weather damage and old age. When this happens, you need a roofing company that will take care of the issue right away so your property stays protected. At Mid Atlantic Roofing Systems,  we are your go-to roofing contractor in Raleigh, North Carolina, for all your residential and commercial roof replacements.
Roofing problems can be hard to spot and even harder to diagnose without the right knowledge and experience. That's why we recommend giving us a call for a comprehensive roof inspection and any necessary roofing repair before any serious issues arise. Our team consistently strives to provide the highest quality customer service throughout the entire process for every roofing project we do. Give us a call today for a free estimate on your roof replacement!
Roof Company Near Me
Shingle roofing is by far the most popular choice among homeowners in Raleigh, North Carolina, as it provides an affordable and durable option for residential roofing projects. At Mid Atlantic Roofing Systems, we offer a wide range of architectural asphalt shingles.
Our team at Mid Atlantic Roofing Systems will walk you through every step of the process from start to finish, including what materials are best suited for your project and how much it will cost. We will help you save money by providing quality products with excellent warranties at affordable prices without sacrificing quality or excellent service! We also welcome claims from your insurance company for water damage caused by a leaky roof, storm damage, and anything in between!
We utilize the highest quality materials when replacing your roof, including:
RhinoRoof provides a ground-breaking new synthetic underlay that is highly engineered and mechanically attached. Rhino Roofing is lightweight; therefore, making it easier and safer to install than asphalt felt underlay. RhinoRoof U20 Synthetic provides complete protection to the roof deck: it is water-resistant, wrinkle-like felt and impervious to mold.
Owens Corning TruDefinition® Duration® Designer Shingles are outfitted with SureNail Technology for outstanding gripping power, TruDefinition Colorform Platform, StreakGuard Algae Resistance Protection, wind resistance and Limited Lifetime Warranty. Choosing designer shingles will give your home the ultimate curb appeal.
CertainTeed Landmark® shingles utilize NailTrak® for fast and accurate installation. In addition to their algae resistance and advanced layering, CertainTeed Landmark® shingles are also equipped with CertaSeal™, which is an asphalt sealant that works to hold all of your shingles together after installation.
At Mid Atlantic Roofing Systems Inc., we are happy to install any type of shingles you want, from GAF and Atlas to Perennial and everything in between. Our team of experienced contractors can answer any questions you might have about the different shingle options and help you decide on what will work best for your home and budget.
Roof Installation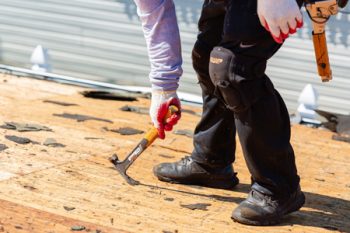 If your current roof has been damaged by weather or age, it can be tempting to try and fix the problem yourself. The truth is that if you don't know what you're doing up there, you could make the situation worse. Roofing replacement services and installations should be handled by an experienced professional like Mid Atlantic Roofing Systems here in Raleigh, North Carolina. We have decades of industry experience installing and fixing roofs for homeowners just like you!
Our team at Mid Atlantic Roofing Systems will handle any size project from new roofing installation and shingle replacement to roof repair and inspections — we do it all! We offer competitive rates, and we guarantee our work so that when we leave your home, you can have peace of mind knowing everything was done right.
Roofers Near Me
Mid Atlantic Roofing Systems has been in business for many years, providing residential and commercial roofing services for home and business owners in Raleigh, North Carolina, and surrounding areas. Whether you've got flat roofs or sloped roofs, shingles or TPO, we've got you covered. Our team goes out of its way to ensure our clients are happy with their finished product every time we complete a project. Don't just take our word for it; read our excellent customer reviews and see why we are the professional roofing company for you! Give us a call today for a free estimate!