Get The Flat Roof Replacement Solutions You Can Rely On!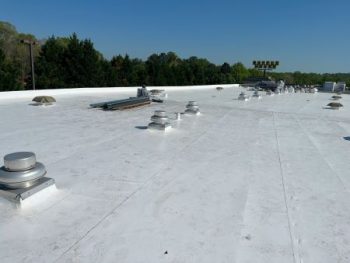 At Mid Atlantic Roofing Systems Inc., we strive to provide a wide range of services for commercial property owners in Winston-Salem. Our expertise in the roofing industry ensures that we can take on everything from basic repairs to even the most complex commercial roofing project. We have a dedicated team standing by, ready to assist you with the entire process — from selecting the best flat roofing material for your property to installation and final inspection.
By partnering with industry-leading manufacturers. We can guarantee that your new roof will be properly installed and durable enough to withstand the test of time. Trust Mid Atlantic Roofing Systems with your next roof replacement. 
What It Means To Work With Mid Atlantic Roofing Systems
At Mid Atlantic Roofing Systems Inc., we understand the importance of getting the job done right. As an authorized applicator of Carlisle Syntec System and Mule Hide, as well as many others, our technicians have the required experience and training to provide expert-level roof installation services — no matter the size or scope of your project. We offer a variety of roofing solutions, from flat roof installations to comprehensive repairs for a leaky roof — all while using materials that focus on providing lasting protection, safety, and energy efficiency. When you trust our reliable roofing contractors with your commercial roofing needs, rest assured you'll get nothing but excellent service and dependable results in return.
Replace Your Current Roof With A TPO, PVC, or EPDM Flat Roof Today!
Flat roofing materials are designed to last a long time, and with the help of roofing experts like those at Mid Atlantic Roofing Systems, we can find the best choice for your property. While TPO, PVC, and EPDM materials are made to be extremely durable, they still require regular maintenance like any other type of roof. Re-sealing, roof coatings, and regular repairs every couple of years will help keep your building protected from the natural elements. Don't hesitate to ask our roofing specialists about the benefits of flat roofing and the many options available to you!
We Are Your Professional Roofing Company In NC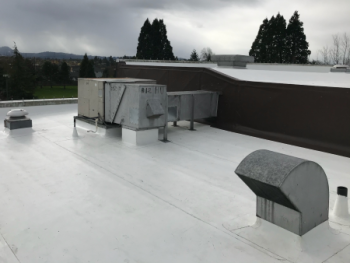 At Mid Atlantic Roofing, we take pride in being a licensed and reliable roofing company for business owners throughout Winston-Salem and the surrounding areas. Our staff is highly trained in the latest methods and techniques to ensure our customers receive the highest quality roof replacement services available.
We understand the importance of meeting city regulations and providing clients with roofing solutions that meet their specific needs. We make sure to keep up with the latest building techniques and never skip on quality workmanship so you can rest easy knowing that your investment will last for years to come. 
Your Search For A Flat Roof Replacement Near Me Is Over
Our goal is to provide commercial property owners with flat roof replacement solutions that meet all their needs. We understand that a roof replacement is a significant investment that requires a lot of planning, attention to detail, and quality workmanship. With Mid Atlantic Roofing Systems on your side, you can be sure that all your roofing installation, replacement, and repair services are done right. Give us a call today to schedule an appointment and speak with one of our experienced commercial roofing contractors about our professional flat roofing services!