Dependable Flat Roofing For Your Business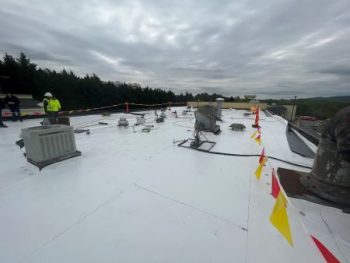 As roofing experts, we understand the importance of maintaining the curb appeal and structural integrity of commercial properties. That's why we provide professional and reliable flat roof repair services in Winston-Salem, NC. Our team of experienced contractors has the knowledge and expertise to handle flat roof installations, replacements and maintenance.
As a business owner, it's crucial to ensure that your building is protected from potential leaks and damages caused by inclement weather conditions. We utilize only the highest quality commercial roofing materials for all of our repairs and installations to provide our clients with the best possible roofing solutions. Choose Mid Atlantic Roofing Systems Inc. for exceptional service and peace of mind that your flat roof is in good hands.
Give Us A Call For Commercial Flat Roof Repair
When it comes to regular maintenance and repair, Mid Atlantic Roofing Systems is the roofing team you can trust. With our years of expertise in the roofing industry, we understand the importance of resealing, recoating, and repairing your flat roof every couple of years to ensure it remains in top condition. This not only prolongs the life of your roof but also protects your building from the natural elements outside. 
As a professional commercial roofing contractor, Mid Atlantic specializes in providing top-quality roofing solutions for all types of flat roofs, including TPO, EPDM, and PVC. Our expertise in the industry ensures that we use only the most appropriate materials and best practices to ensure the longest-lasting and most cost-efficient solutions for our clients. We take pride in offering superior work and top-quality customer service, making us the preferred roofing specialist for many businesses. Our experienced commercial roofers have a keen understanding of the local climate, which allows us to advise on how to best utilize certain roofing materials to help reduce energy costs. Whether you require repairs or a full replacement, Mid Atlantic is committed to providing quality materials and superior workmanship on every job.
Need A Flat Roof Inspection? We're Here To Help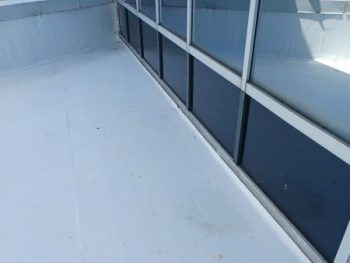 When it comes to managing a commercial roofing project, every business owner wants to ensure they invest their money and time wisely. This is why choosing a professional roofing company like Mid Atlantic Roofing Systems is essential. Apart from being more cost-effective in maintenance and care compared to other types of roofs and offering more flexibility with architectural designs, flat roofing provides numerous benefits that business owners can take advantage of. One of the most significant advantages of having a flat roof is that inspections for damages and debris are much easier to perform. With an even surface, our contractors don't have to worry about obstacles while walking over the roof, inspecting the seams, checking for punctures, and pooling water. Plus, flat roofs can be less expensive to install and repair compared to other roof types, helping you save money in the long run. Mid Atlantic Roofing Systems is here to help you with all your commercial roofing needs, ensuring your roof is in excellent condition and will stay like that for many years to come.
We Are Your Go-To Reliable Roofing Contractors In Winston-Salem
At Mid Atlantic, we take pride in providing professional roofing services to the Winston-Salem area. Our team of experts is well-equipped to work on all types of commercial buildings, whether you need repairs or a complete tear-off and replacement. We understand that problems with your roof can cause a lot of inconveniences, and that's why we follow a comprehensive inspection process to ensure that all issues are addressed before and after the job is completed. Our solutions are tailored to your specific needs, helping you prevent future damage and costly repairs. Call Mid Atlantic Roofing Systems Inc. today to get started!