When it comes to roofing, flat roofs are a popular choice for commercial buildings due to their sleek design and practicality. However, understanding the fundamentals of flat roofing is essential to ensure proper maintenance and knowing what material you want to use. This comprehensive guide will delve into the key concepts, materials, and benefits of flat roofing, empowering you with the knowledge needed to make informed decisions and effectively care for your flat roof.
Choosing a Type of Flat Roofing Material
Commercial buildings require a practical and versatile roofing solution, which is why flat roofs are a popular choice. Flat roofing systems provide ample space for various uses, including outdoor living areas, green roofs, and solar panel installations. Additionally, by applying reflective coatings to the roof, business owners can significantly lower energy bills by reducing heat absorption into the building's interior. However, choosing the right material for a flat roof requires careful consideration of cost, durability, and maintenance requirements. While the selection process may be challenging, the peace of mind that comes with a long-lasting and cost-effective flat roof is invaluable.
PVC Membrane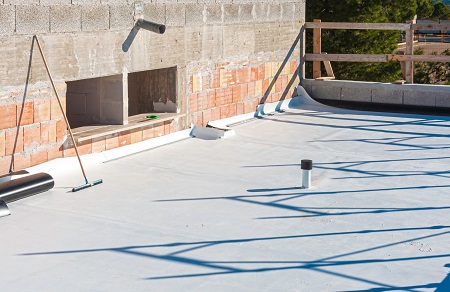 As the world continues prioritizing sustainable building materials, PVC membranes are certainly worth considering as a top option for flat roof waterproofing. Innovative and reliable, PVC roofs are made with elastic polyvinyl chloride and can be installed quickly and easily thanks to the hot air welding technique. What's more, these membranes provide impressive strength and flexibility, making them an ideal choice for rough or uneven surfaces. And with their high vapor permeability, you can rest assured that condensation won't be an issue. Best of all, these membranes meet all necessary fire safety requirements, so you can have total peace of mind. For anyone in need of a durable, reliable flat roof solution, PVC membranes should definitely be on the radar.
TPO Membrane
Thermoplastic Polyolefin (TPO) roofing is a material that has been engineered to weather the toughest of outdoor elements. Composed of a blend of rubber and plastic, TPO roofing is lightweight yet durable and, most importantly, resistant to many environmental factors that can compromise other roofing materials. It can hold up against UV rays, punctures, and chemicals, but it is not entirely immune. Foot traffic or debris on the roof can result in small tears or punctures that can then lead to leaks. The key to preserving any single-ply roofing, TPO included, is routine maintenance. This goes beyond structural durability but includes keeping the roof free of debris, particularly hardware like nails or screws that can cause punctures when stepped upon. With careful monitoring, TPO roofing can last up to 30 years and provide the durable protection every building needs.
EPDM Membrane
EPDM or rubber membrane roofing systems are a modern solution to the age-old flat roofing problem. These advanced systems are more durable than traditional flat roofs, such as BUR and modified bitumen roofing, which makes them a popular choice for commercial building properties. One downside to EPDM roofs is that their natural black color absorbs heat, which leads to increased energy bills for air conditioning. However, property owners can mitigate this cost by installing light-colored roof coatings, which may increase the initial outlay for installation but will ultimately lead to long-term cost savings. With its durability and easy repairability, EPDM roofing is a forward-thinking investment for those seeking reliable roofing solutions that can stand the test of time.
How Long Will My Flat Roof Last Me?
In the roofing world, there's one truth that can't be denied: maintenance is key. But how long can a properly maintained flat roof last? It all depends on the materials. For instance, a built-up roof or layers of modified bitumen can hold up for up to 20 years. That's some serious longevity! But if you want to go further, lightweight thermoplastic polyolefin or spray-on coatings of polyurethane foam, acrylic, or silicon provide a similar lifespan. And if you want to invest in a roof that lasts, consider high-quality materials like ethylene propylene diene monomer (EPDM) or polyvinyl chloride (PVC). These roofing options may endure for up to 30 years, depending on how well you keep up with inspections and upkeep. It's a well-known fact that flat roofs are often subject to more wear and tear than other roofing styles. But with proper maintenance and the right materials, they can easily last for decades.
What Do I Need to Know About Roofing Maintenance and Repairs?
When it comes to flat roofs, it's important to remember that they require professional attention. Their unique maintenance and repair needs mean that calling in an expert is the best way to ensure a job well done. For instance, PVC roofs can be re-welded at the seams throughout their service life- a task only a skilled professional should attempt. And don't forget about built-up roofing, which can be particularly tricky to repair due to the challenge of locating leaks. This highlights the importance of relying on professional expertise- their knowledge can make the difference between a small problem and a major renovation.
What Are Some of the Benefits of Flat Roofing Systems?
Regarding roofing options, flat roofing stands out as a cost-effective and energy-efficient choice. Not only is the initial cost of the materials cheaper, but the reflective nature of a flat roof also saves on energy costs in the long run. By bouncing back UV rays, the structure underneath stays cooler and more comfortable in the heat of the summer. Additionally, installing insulation on a flat roof can help with heat loss in winter, keeping the building cozy and warm. Considering the rising energy costs and the need for affordable solutions, a flat roof system is a smart investment for any building owner looking to save money and reduce their carbon footprint.
Flat Roofs for Commercial Buildings Must Be Replaced and Installed By Professionals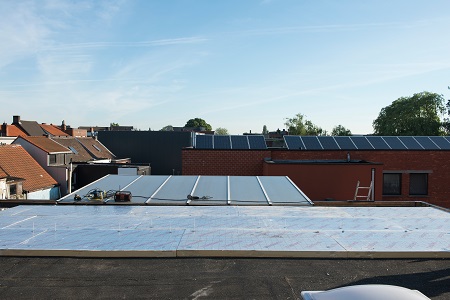 A commercial building's roof is a key component that must be chosen with care. One option that can be especially advantageous is a flat roof. Flat roofs are known for their durability, cost-effectiveness, and relative ease of maintenance. However, not all flat roofing systems are equal, and choosing the right one can be tricky. Many flat roofs require different means of upkeep; some will last longer than others. To ensure that your roof is properly installed and lasts as long as possible, working with a skilled commercial roofing contractor who knows the ins and outs of flat roofing services is critical. That's where Mid Atlantic Roofing Systems Inc comes in. Our experienced team of professionals is highly recommended in the field and provides reliable services to commercial properties throughout Winston-Salem, North Carolina, Charlotte NC, and beyond. Let us help you choose the best flat roofing system for your building and ensure it is installed correctly so that you can enjoy its benefits for years to come.
Contact us today to get started on your flat roofing project and experience excellent customer service.
Other commercial roofing services we provide:
Commercial Roof Repair (Flat Roof Repair)
Roof Leak Repair
Roof Replacements (Flat Roof Installations)
Residential Roofing Services
Gutter Installation
Siding Installation
Window Replacement
And More!
Visit our About Us page for more information about our roofing company, or see our commercial roofing gallery for examples of our work.