When it comes to upgrading your home's windows, vinyl replacement windows offer a plethora of benefits that make them a popular choice among homeowners. Vinyl windows are visually appealing, highly durable, energy-efficient, and low-maintenance. Their versatility allows them to complement various architectural styles, while their insulating properties contribute to improved energy efficiency and reduced utility costs. Additionally, vinyl replacement windows offer excellent noise reduction, enhanced security features, and long-term cost savings. This article will explore the numerous advantages of vinyl replacement windows, providing a comprehensive understanding of why they are a smart investment for your home.
What Are Vinyl Windows?
Upgrading your house with modern, energy-efficient vinyl windows is a smart investment that can improve comfort, aesthetics and lower your energy bills. Vinyl is the go-to material for replacement windows and new construction because of its exceptional durability, low maintenance, and superb thermal efficiency. Unlike older steel or aluminum-framed windows, vinyl windows can stand the test of time, keep your home cozy all year round, and boost your house's curb appeal.
Superior Energy Efficiency
When it comes to windows, there are few options as strong and energy-efficient as ones made from vinyl. These windows boast moderate to high R-values, meaning they're resistant to heat transfer, and they also provide impressive energy savings over time. The higher the R-value, the better the resistance and efficiency, which translates to lower heating and cooling costs for you in the long run. With vinyl windows, you can feel confident that you're not only investing in a durable and quality product but also one that will help you save money on your energy bills.
A Great Affordable Option
When replacing windows, cost-effectiveness is a huge factor for many homeowners. Luckily, vinyl windows offer an affordable option without sacrificing quality. In fact, not only are vinyl windows budget-friendly, but they also come in various styles and colors to match the aesthetic of your home. Don't settle for subpar windows simply to save a buck – with vinyl windows, you can have both quality and affordability.
Durable and Long Lasting
Regarding window replacement choices, vinyl windows stand apart from the rest. Their durability is unmatched, as they are resistant to rotting, molding, and warping. Not to mention, they can endure even the harshest weather conditions, including extreme heat and UV rays. Vinyl windows are a fantastic investment, boasting a life expectancy of up to 40 years on average. And, with industry-leading warranties, you can rest easy knowing that your window choice won't result in unexpected expenses down the road. Trust us, vinyl windows make for an excellent selection when replacing your worn-out, outdated windows.
There Is a Wide Variety of Styles and Color Choices to Choose From
When it comes to home renovations, windows are often overlooked. However, they can greatly improve the look and feel of your home. If you're torn between the timeless appeal of wood windows and the low maintenance of vinyl windows, there's good news. Custom vinyl windows offer a solution. Not only can they mimic the wood look, but they come in a wide range of textures and colors to fit any style you can imagine. This gives you the flexibility to be picky in your design choices and achieve the perfect look for your home. Say goodbye to the high maintenance of real wood and hello to the beauty and longevity of custom windows.
Low Maintenance
If you're looking for a low-maintenance window option, vinyl windows could be just what you need. Vinyl windows are aesthetically pleasing, and their fade-resistant vinyl formula makes them incredibly durable. With this unique formula, they won't need to be repainted, stained or refinished, saving you time and money in the long run. Instead, you can sit back and enjoy their long-lasting features without worrying about maintenance. Vinyl windows are an excellent choice for any homeowner who wants a beautiful, low-maintenance home.
Soundproof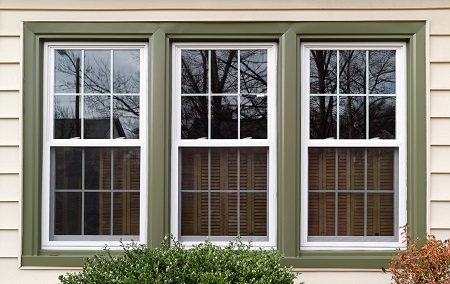 Vinyl has an impressive ability to insulate any space from the elements, making it an ideal material for reducing energy consumption. However, its versatility goes beyond energy-efficient windows, as vinyl is also an excellent noise dampener. With its thick and dense composition, vinyl can significantly reduce the amount of outside noise that enters your home, creating a peaceful and tranquil environment. Whether you're looking to block out the sounds of nearby traffic or simply enjoy a quieter space, insulated windows are sure to improve the overall comfort of your home.
Environmentally Friendly
Vinyl windows have become increasingly popular among environmentally conscious homeowners. Not only is this Eco-friendly product a stylish addition to any home, but they are also an excellent way of reducing one's carbon footprint. Vinyl is a recyclable material, meaning old windows can be repurposed for other products instead of ending up in a landfill. By doing so, we significantly reduce the amount of waste generated from window replacements. Also, vinyl windows are energy-efficient, meaning they help reduce the energy needed to heat or cool a home. This reduction, in turn, minimizes the amount of carbon dioxide emitted by power plants. The best part? Vinyl windows also require far less maintenance than traditional wood windows, reducing the need for harsh chemicals and solvents that can harm the environment.
Go to Mid Atlantic Roofing Systems for Vinyl Window Replacement
As a homeowner, you may be all too familiar with the high costs that come with keeping your home comfortable throughout the year. From frigid winter months to scorching summer heat waves, your heating and cooling system can eat up a significant chunk of your budget. Fortunately, there are ways to reduce those expenses and make your property more energy-efficient. If you're looking for a cost-effective solution, vinyl windows are a great option. Not only are they incredibly durable, but they're also known for being highly energy-efficient, particularly if you choose to install triple-pane windows. At Mid Atlantic Roofing Systems Inc, we offer high-quality vinyl windows that are easy to maintain and install. Plus, our affordable pricing makes vinyl windows a cost-friendly alternative to other types of replacement windows. We are located in Winston Salem, North Carolina, at your convenience.
Give us a call today for a free estimate on professional window replacement and learn how vinyl windows can benefit you and your home. Let our exceptional customer service speak for itself.
Other home services we offer:
Emergency Window Replacement
Roofing Replacement Services
Flat Roofing Services
Siding Installation
Roof Repair
Gutter Installation
And More
Visit our About Us page for more information about our company, or see our FAQ page.