When it comes to maintaining your home, there are certain repairs that should not be overlooked. Your roof is no exception – you may think that postponing a roof repair job isn't a big deal, but doing so can have major consequences. When minor roof damage or wear and tear goes neglected for too long, it can quickly become more serious and expensive to fix than if the repair was done right away.
In this blog post, we'll take a look at the risks associated with putting off necessary roof repairs and how you can avoid these costly mistakes.
Further Damage/More Expensive Repairs
Many people think that waiting to schedule roofing repairs is a money-saving decision, yet this could actually end up costing more in the future. If a problem is ignored, it has the potential to expand and cause far more extensive damage than if the issue had been addressed at an earlier stage. Not only can this damage be hazardous to your property's value and aesthetic, but it can also make necessary repairs much more expensive due to the increased scope of work needed. Therefore, timely roof maintenance and repair is essential for minimizing costs in the long run.
Safety Risks
Ignoring roofing repairs can put you and your family in serious danger. Not attending to a leaking or damaged roof can lead to structural rot, which, if not fixed, has the potential to collapse. Moreover, it can also soak your walls & other structures, encouraging the growth of molds and leading to potential health risks for those living inside. Other risks include short-circuits, accumulation of debris, standing water and pest infestations. Therefore, it's important for homeowners to take safety risks into consideration and make sure any necessary repairs are conducted as soon as possible in order to keep their homes safe from any form of hazard.
Pest Infestations
Neglecting roofing repairs can be a huge gamble, as pest infestations are a very real risk. Any place that gives outdoor pests easy access to your indoors is a breeding ground for rodents and other critters to gain entry into the home. When roofs lack proper maintenance, cracks and crevices appear that can serve as highway ramps for unwelcome guests.
Water Damage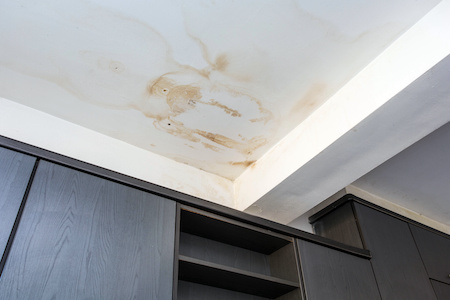 Water damage not only has the potential to compromise a roof's structural integrity, but it can also impact other areas of the home, such as drywall, paint, and wiring, leaving them weakened and susceptible to further damage. In addition, prolonged water damage can result in microbial growth or mold, which may pose serious health risks if left untreated.
Increased Energy Bills
The other downside of avoiding roof repairs is that it can lead to higher energy bills. If your roof is damaged, it won't be able to properly protect your home from the elements. This means your home will lose heat in the winter and cool air in the summer, leading to higher utility bills. You'll be surprised at how much of a difference a well-maintained roof can make in your energy costs.
Reduced Property Value
Finally, having a roof that needs repairs can negatively affect your home's property value. It is inevitable that prospective buyers will take heed of the difference between a property with a sound roof and one with visible damage. Even slight wear and tear on an aging roof may be noted, causing potential buyers to offer less money than the asking price for your home.
Roofing Contractor Near You
If your roof needs urgent repairs, Mid Atlantic Roofing Systems Inc. can help! We are a professional roofing company offering a wide range of residential and commercial roofing services, including:
Complete Roof Replacement & Roof Installation
Gutter Installation
And More!
Contact us today to schedule a free consultation! Our team of roofing experts will be happy to help you find the best solution for your needs. We look forward to hearing from you.