Is your commercial roof showing signs of wear and tear? A worn or damaged roof can lead to water infiltration, which can damage the structure of your building and create a safety/health hazard. Signs of wear and tear on your roof may include missing or damaged roofing material, cracks in the roof surface, or leaks. If you notice any of these problems, it's important to call a qualified roofing contractor to assess the situation. But with so many roofing companies to choose from, how do you choose the best one? Well, when it comes to commercial roofing, it's important to choose a contractor you can trust. After all, your roof is one of the most important parts of your business, and you need to know that it's in good hands. But how can you tell if a contractor is reputable and qualified? Here are five tips to help you find the best commercial roofing contractor for your business:
1. Ensure the Company Is Properly Licensed and Registered
Unfortunately, in the roofing industry, there are many individuals who claim to be roofers but who do not have the proper credentials. These individuals may have the tools for the job, but they likely do not have the knowledge or expertise to provide quality services. Furthermore, without a means of verifying the contractor's credentials, you have no assurance that they will install your new roof correctly. This is why it's extremely important to ensure you hire a licensed and registered roofing company for your project. Licensing and registration is required in most states and is the bare minimum a commercial roofing company should have.
This will give you peace of mind knowing that your roof is being installed by a legitimate team of roofing professionals.
2. Ask for Proof of Insurance
When searching for a commercial roofing company, always request to see proof of insurance. This is important for two reasons. First, in the event that something goes wrong and your property is damaged, you want to be certain the company's insurance will cover repairs. Second, should a roofer become injured while working on your property, you'll want to confirm that their medical bills will be covered by the company's insurance. It's better to be safe than sorry – if a company is unwilling or unable to provide proof of insurance, look elsewhere for your roofing needs.
Following this advice will help ensure that you're protected in the event of an accident or incident during the roofing process.
3. Consider the Company's Experience
When hiring a commercial roofing company, it's important to consider the company's experience. How long has the company been in business? What kind of reputation does it have? What type of training and certifications do its employees have? Answering these questions will give you a good sense of the company's qualifications and capabilities. Experience is especially important when it comes to installing and repairing roofs, as even a small mistake can lead to serious problems down the road. Make sure you ask plenty of questions and get detailed answers before making your decision.
With a little research, you can find a roofing company that will meet all of your needs.
4. Ask If They Offer Any Warranties
When you are hiring a commercial roofing company, it is important to ask if they offer any warranties on their work. Many companies will offer a warranty on the materials they use, but not all companies will offer a warranty on the workmanship. If a company does not offer a warranty on their workmanship, it is important to ask why. A good roofing company will stand behind their work and offer a warranty that covers both the materials and the workmanship. In addition, it is important to ask what the terms of the warranty are. Some warranties will cover only certain types of damage, while others will cover the entire roof. Make sure you understand the terms of the warranty before you hire a roofing company.
By asking these questions, you can be sure that you are hiring a company that will stand behind their work.
5. Consider Their Locality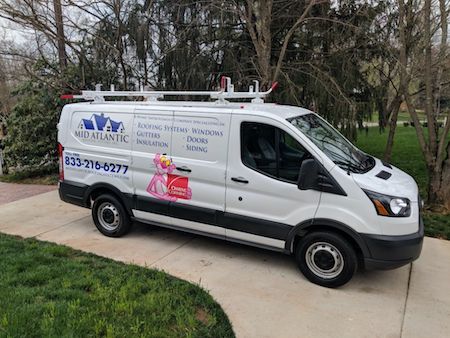 Lastly, you'll also want to consider the locality of the roofing company you're hiring. While there are many national roofing companies that claim to be experts in commercial roofing, there can be advantages to working with a local company. For one, a local company will have a better understanding of the climate and weather conditions in your area and how they can impact your roof. They will also be familiar with the building codes and regulations in your municipality and will be able to ensure that your roof meets all the necessary requirements. In addition, a local company will be more responsive to any issues that may arise during or after the installation process.
By choosing a local company, you can be assured that you're working with experienced professionals who are familiar with your area and ready to provide the best possible service.
At Mid Atlantic Roofing Systems Inc., our dedicated team of professionals proudly serves the following areas:
And all surounding areas!
Your Local Commercial Roofing Specialists!
At Mid Atlantic Roofing Systems Inc., we offer a wide variety of commercial roofing services to meet the needs of any business. Whether you need a roof repair, replacement, or new installation, we have you covered. We specialize in flat roofing, and our team of experienced professionals is equipped to handle projects of any size. We understand that every business is different, and we will work with you to find the best solution for your needs. Contact us today to learn more about our services and get a free estimate for your upcoming roofing project!
Want to learn more about what sets us apart from our competitors and why you should choose us?
Check out Mid Atlantic Roofing Systems, Inc. on Google!