Hiring a reputable roofing company can be a daunting task. Too many options are available, and it's hard to know who to trust with such an important part of your home or building. As such, it takes a great deal of due diligence to find the type of roofer you're looking for. Luckily, we have put together a list of questions to ask a roofing contractor before making your decision.
How long have you been in business?
There are many service providers in the market, and you don't want to end up with an amateur in charge of your roofing project. When interviewing your potential roofer, you first want to ascertain their experience level. This is an easy way to gauge the work you can expect. In most cases, the more experience the roofer has, the better the quality of their work will be. Furthermore, they can offer reliable solutions to any hurdles that emerge in the project.
Are you insured?
The second thing to ask your potential roofing contractors is whether they're insured. Roofing can be dangerous, and you don't want to be liable if someone gets injured. Only work with roofers who are certified by the state. A great way to check this is by calling their insurance company and asking. Also, they should have worker's compensation and general liability insurance so that your property won't be liable for anyone's injuries on the job.
Are you licensed?
You should determine whether or not your potential roofing contractor has a license before hiring them for your project. Working with properly licensed people is crucial because it ensures they're qualified to do the roofing job. Ask to see their license and make sure it is up-to-date. 
Can you provide me with references?
A great way to know whether or not a roofing company is worth your time and money is by checking their references. Any reputable company will be more than happy to provide a list of satisfied customers. Don't just take their word for it; call some people and ask them about their experience working with the roofer. This will give you a good idea of what to expect. You can also look up the company online and read their reviews!
What type of warranties do you offer?
Roofing is a significant investment; you want to ensure you're covered in case something goes wrong. That's why asking your prospective roofing contractor about the warranties they offer is essential. Generally, there are two types of warranties: workmanship and materials. The former covers the quality of the work done, and the latter covers any damage to the roofing material. Make sure you understand the terms of the warranties before signing any contracts.
What kind of roofing materials do you use?
The types of roof material a company uses are an essential consideration. Some materials are better suited for certain climates than others. For example, asphalt shingles work well in warm temperatures, while metal roofs are better for colder areas. Ask your potential roofers what materials they use and whether or not they're appropriate for your needs.
How long will it take to complete my project?
Roofing projects can be pretty disruptive, which is why you want a timeline in place. Ask your prospective roofers how long the project will take and ensure they're available consistently during this time frame. If not, find someone available for the duration of the project.
How much will it cost?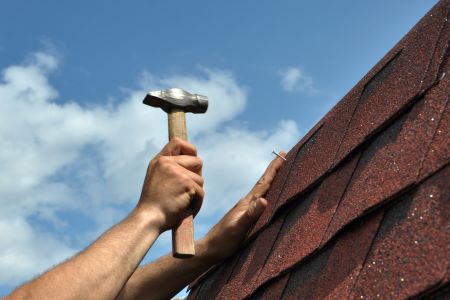 Of course, you'll want to know how much the project will cost. This is one of the most important questions to ask, and you should get a written estimate before hiring a roofing contractor. Ensure the assessment includes all materials and labor costs, so there are no surprises once the project is complete. This will save you from unnecessary conflict and headaches down the line.
Do you abide by the local building codes?
A reputable roofing contractor must abide by all local building codes. If not, then you could face severe fines and penalties. It's also worth asking your potential roofers if they're familiar with new code changes in your area, so there aren't any surprises down the road. This is especially important for commercial projects.
Will you have an on-site project manager?
Once you've chosen a roofing contractor, they must have an on-site project manager. A good manager should delegate tasks and oversee the work being done. This will ensure everyone is working towards a common goal of completing your dream roof on time. You can also expect to get timely updates if any challenges arise. It's essential to ensure everyone on the team is on the same page.
What are your payment terms?
Last but not least, you'll want to ask your roofing contractor about their payment terms. This will help you determine how much money you need to set aside for the project. Most companies require a deposit before starting work and the final payment once the job is completed. Make sure you're familiar with these terms and agree with them before signing any contracts with roofing companies.
Need a New Roof?
Mid Atlantic Roofing Systems Inc is your go-to roofing company if you're planning to replace your old roof! We have a qualified team of roofers with years of experience to guarantee you high-quality work the first time, every time. We also deal with roof repair, new roof installation, full roof replacement, gutter installation, etc. Call us anytime you need a reliable roofing company in Raleigh, NC.