We Provide The Commercial Roofing Services You Can Depend On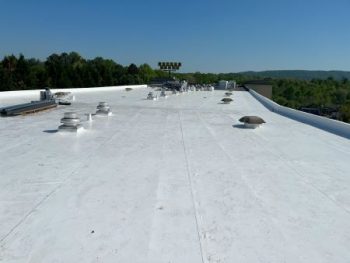 When it comes to roof replacements, the roofing industry generally has two potential approaches. One option is to install new roofing materials over the existing layer, and the second is a commercial roof tear-off, completely replacing the old material with new. Ultimately, which solution is best for your property depends on a few factors, primarily the type of roof in question and how extensive the damage of the existing layer is.
While placing new material over what already exists may seem like a more cost-effective approach in certain cases, it's not always the best solution. This is why investing in a thorough roof repair that includes a tear-off may be more beneficial in most instances – our team at Mid Atlantic Roofing Systems can help you determine which route makes the most sense for your property.
TPO Roofing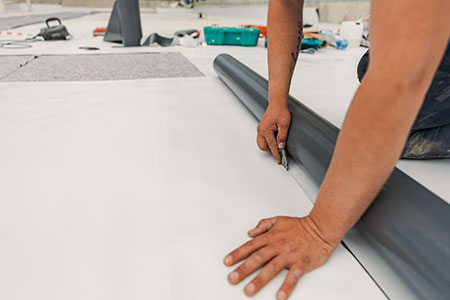 TPO is a heat-welded commercial roofing option that is environmentally friendly, helps reduce energy costs, and is available in a variety of thicknesses to fit your needs.
EPDM Roofing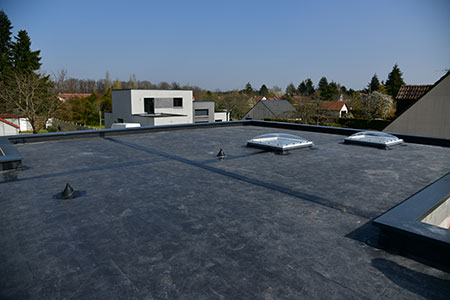 EPDM is a black, single-ply rubber roofing membrane that requires little maintenance, is resistant to UV rays, and is capable of withstanding extreme temperatures.
PVC Roofing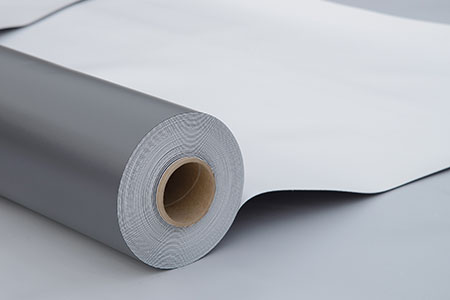 PVC roofing is an incredibly durable roof option for commercial buildings and is resistant to various chemicals, grease, oils, and fuels, making it an ideal choice for restaurants.
Roof Coatings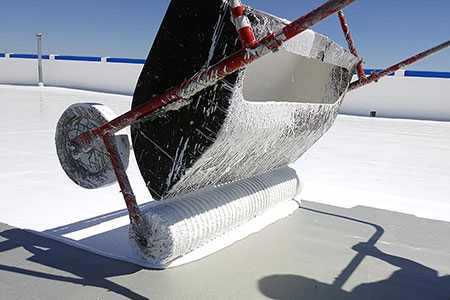 A silicone coating is an excellent way to restore and protect many commercial roofing systems. It can be applied to a variety of roof types including TPO, PVC, and EPDM.
Durable Flat Roofing For Your Commercial Building
Re-roofing over existing roofing material is a long-standing debate, as diagnosing any pre-existing issues and the type of damage that may lie beneath are not always possible.
Applying new flat roofs over old materials may help correct some of the problems, but condensation and potential mold buildup in the roof deck and underlayment often go unnoticed until significant damage has already been done.
Mid Atlantic offers comprehensive commercial roof installation and assistance to business owners throughout Winston-Salem and the surrounding areas.
Our team provides each client with an honest assessment of their current roof system, complete with recommendations that take into consideration not only cost but also any potential risks associated with repair versus a complete tear-off and roof replacement.
We understand that every roofing situation is unique, and not all commercial roofing companies are created equal, which is why we tailor our advice towards whatever method fits your building's individual needs best.
We offer exceptional warranties on all roofs!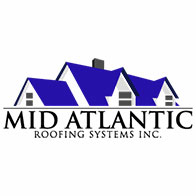 Starting at a minimum 20-year warranty and up, depending on your roof type!
Ongoing Roof Maintenance
As a property owner, you understand the importance of protecting your investment. As your commercial roofing contractor, we understand the importance of your investment as well as the need to protect and care for your roof over the many years ahead. And although your roof comes with a manufacturer warranty, there are many things that can affect the life of your roof that are not covered by the warranty.
With so many possible adverse effects on your roof, it's highly recommended that you inspect your roof at least once a year and after severe weather. And who better to inspect your roof than the contractor who installed the roof to begin with? No one else is more familiar with your roof and the many facets that go into a full roof inspection.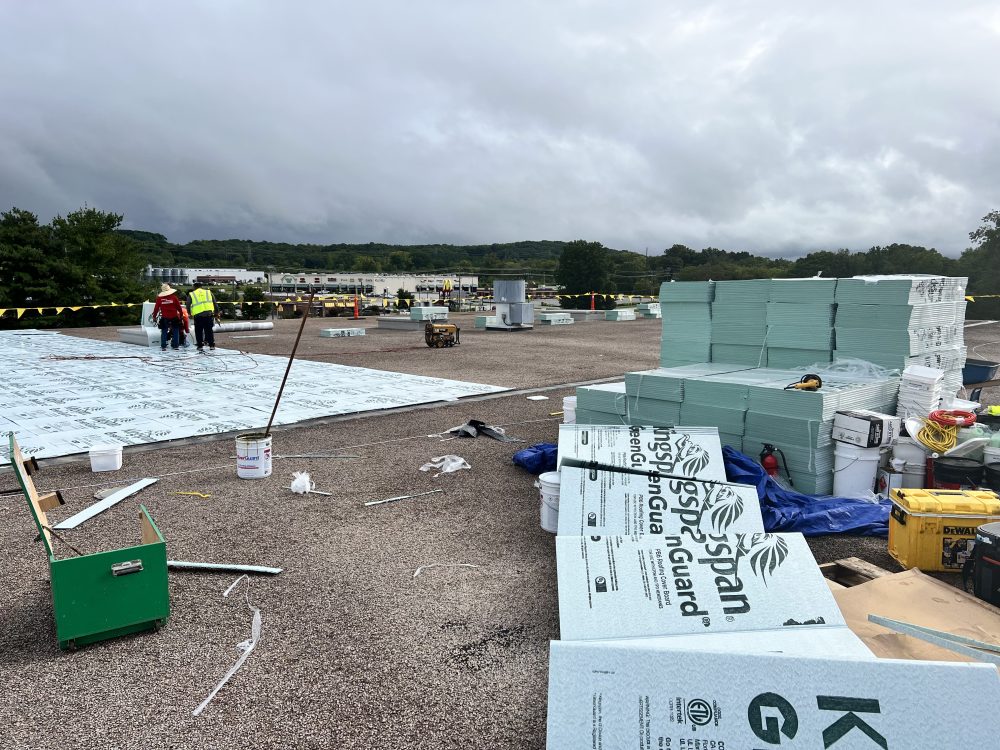 Roof Problems Not Covered By Warranty:
Lack of routine maintenance
Drains that are clogged, broken, or not functioning properly, leading to inadequate or insufficient drainage.
Gutters and downspouts that are broken or not functioning properly.
Improper repairs and/or materials by unauthorized contractors.
Damage caused by animals or insects.
Structural problems, building movement.
Hail, wind storms, heavy snow loads, hurricanes, tornados, etc.
Contamination of the membrane by harmful chemicals such as oil or solvents.
Damage caused by other trades (e.g., improperly installed equipment.
Excessive roof traffic.
Vandalism: impact from falling objects.
Metal Roofing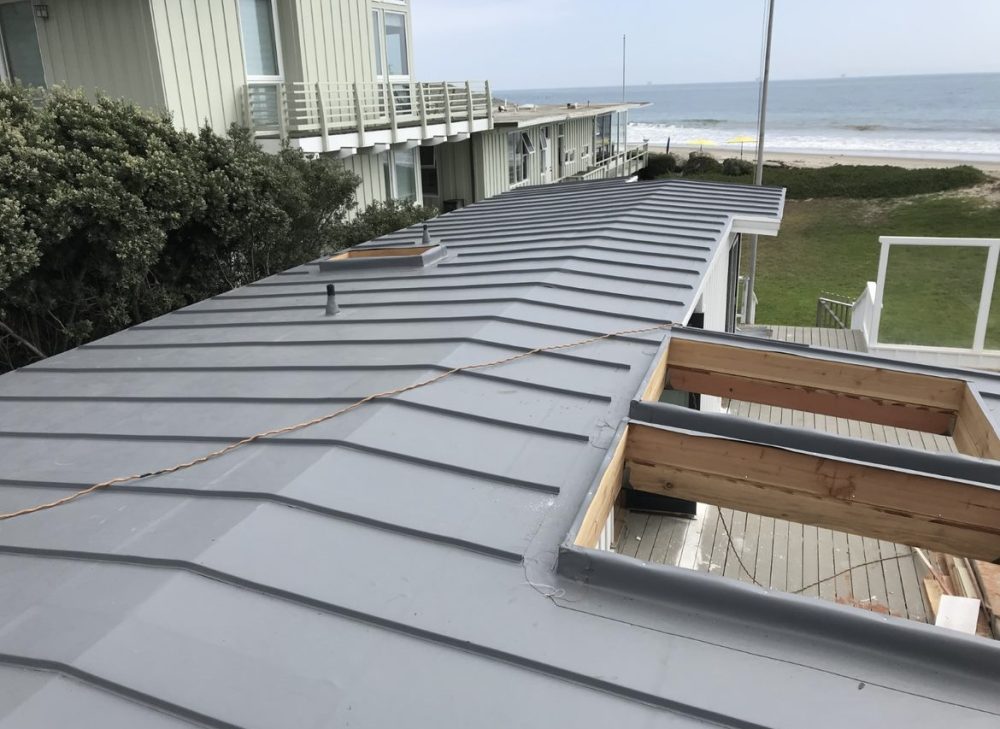 We provide a variety of high-quality, ENERGY STAR® rated, fluid-applied roof restoration systems specifically designed for metal roof surfaces. Our metal roof restoration systems are proven to stop leaks, reduce energy consumption, prevent rust and corrosion, extend roof life, and, most importantly, they cost half as much as a conventional roof replacement.
The beauty of a fluid-applied roof restoration system is that it is installed directly over your existing roof substrate. We specifically engineer our systems to restore, waterproof, and protect a variety of flat and metal roof membranes—all at a fraction of the cost of tearing off and rebuilding.
Benefits of Acrylic Roof Coatings
Acrylic roof coatings are among the most durable and inexpensive elastomeric coatings in the industry. Comprised of high solids emulsion polymers and potent biocides, these highly reflective coatings are ideally suited for extreme UV climates and provide superior resistance to mildew and dirt accumulation.
Acrylic coatings are often used to restore aged metal roofs, but they also work on a number of different roofing substrates, such as modified bitumen, single-ply, built-up roofs, and spray polyurethane foam. Acrylics are easy to work with and come in a variety of different standard, premium, and custom colors.
We Are A Carlisle Syntec Systems Authorized Applicator
Your Local Commercial Roofer Does It Right
When it comes to your business's roof, you can't take any chances. As a Carlisle Syntec Systems authorized applicator, we have the experience and training necessary to handle any commercial or residential roofing project with the utmost care. We utilize the highest quality materials focusing on durability, safety, and energy efficiency. With the outstanding workmanship and customer satisfaction you've come to expect from us, our expert team at Mid Atlantic Roofing Systems Inc. will make sure your roof is in top condition. Contact us today to learn more about our commercial roofing solutions.
Let Us Help You Prepare For Your New Roof Installation
Commercial roofing projects must be addressed with care, ensuring that the old and worn-out waterproofing is correctly removed and replaced with new materials. This helps to guarantee protection from the rain while further preserving the integrity of the foundation beneath. At Mid Atlantic Roofing Systems, we specialize in commercial roof repair, tear-offs, leak repair, and new waterproofing/sealing material installation – all of which are necessary to ensure a well-installed structure that can stand up against even the most unfavorable weather conditions. Our team of roofing professionals strives to provide the highest quality installation and repair services that business owners deserve. Don't leave your roof in the hands of anyone; our roofing experts are authorized applicators for Carlisle Syntec Systems, providing you with peace of mind for all your commercial roofing installations.
We Are Your Go-To Commercial Roofing Contractor In Winston-Salem
Roofing in North Carolina can be a tough job that requires experience and a deep understanding of the unique challenges that come with it. At Mid Atlantic Roofing, all of our contractors have the expertise needed to take on any roofing project, no matter how daunting it may seem. From emergency repairs to commercial roof inspections and tear-offs, we have you covered. Our team is dedicated to providing dependable workmanship and exceeding our customer's expectations. We pride ourselves on open communication with our clients so that they can have confidence in the work we provide. When you entrust your roofing needs to us at Mid Atlantic Roofing Systems, you can rest assured knowing that you'll receive the highest quality work and outstanding customer service. Give us a call today!