We Are Your Go-To Commercial Roofing Contractor In Charlotte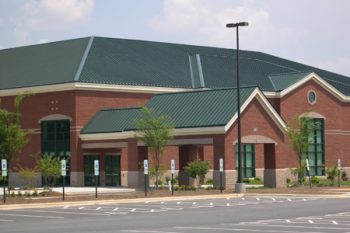 Commercial roofing projects differ greatly from residential roofing jobs as they require more workers, materials, and different equipment to get the job done. Working with an experienced team of roofing contractors with all of these requirements will provide you with peace of mind that your roofing project will be completed with the quality workmanship you can rely on.
At Mid Atlantic Roofing Systems Inc., in Charlotte, North Carolina, we have all the necessary resources to provide a wide range of commercial roofing services, including roof installation, repair, and replacement. Our team has years of experience in the roofing industry working with large buildings like warehouses, schools, stores, and more. We utilize the highest quality roofing materials like PVC (Polyvinyl Chloride) and TPO (Thermoplastic Polyolefin) for flat roofs. Our skilled team of roofing professionals will assess your needs before providing you with a free estimate so that we can come up with a plan that works best for you. We are the professional roofing company you can rely on. Give us a call today!
TPO Roofing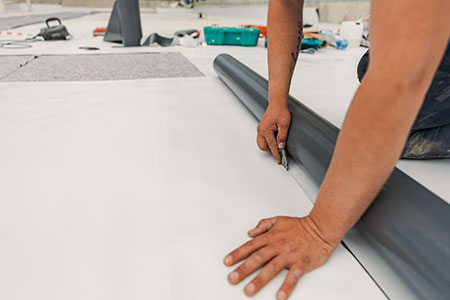 TPO is a heat-welded commercial roofing option that is environmentally friendly, helps reduce energy costs, and is available in a variety of thicknesses to fit your needs.
EPDM Roofing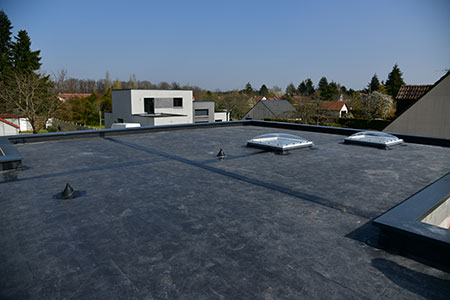 EPDM is a black, single-ply rubber roofing membrane that requires little maintenance, is resistant to UV rays, and is capable of withstanding extreme temperatures.
PVC Roofing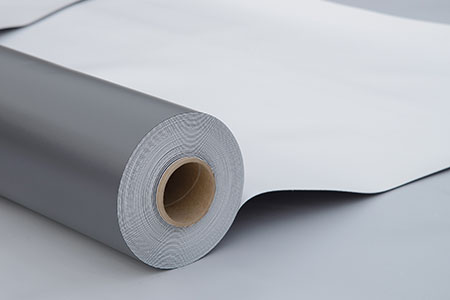 PVC roofing is an incredibly durable roof option for commercial buildings and is resistant to various chemicals, grease, oils, and fuels, making it an ideal choice for restaurants.
Roof Coatings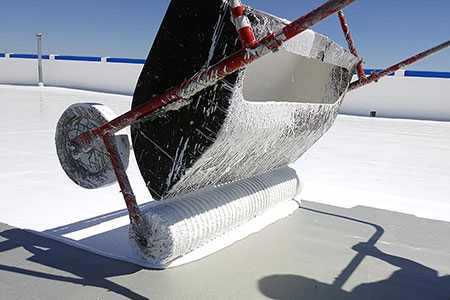 A silicone coating is an excellent way to restore and protect many commercial roofing systems. It can be applied to a variety of roof types including TPO, PVC, and EPDM.
When You Need A Commercial Roof Replacement Job or Emergency Roof Repairs, We're Here To Help
As a business owner, we understand that your roof is an important investment and keeping up with regular maintenance and repairs is critical. However, as your roof ages or develops more serious roofing issues, repairing it may no longer be a viable option. There will eventually come a time when you have to replace your roof entirely. When this happens, working with an experienced roofing expert is paramount.
At Mid Atlantic Roofing Systems, we recognize that not all roofs are created equal. That's why our team of Charlotte roofers takes the time to determine which type of commercial roofing products will be the best fit for your needs based on durability and cost factors, as well as aesthetics and energy efficiency. We follow roofing industry standards, and all of our work is backed with exceptional warranties, so you can rest easy knowing your roofing replacement services will last for many years.
If you are a business owner in the middle of a budget planning session, chances are that your roofing expenses aren't going to be your top priority. The problem is, if you don't invest in commercial roofing repairs for your building now, you may find yourself spending more on emergency repair work later. Mid Atlantic Roofing Systems can help with all of your commercial roofing needs! We ensure excellent customer service and high-quality products at affordable prices so that we can fit into any budget plan – no matter how tight it might be! Our years of experience in the roofing industry means that we know what works best for North Carolina businesses regarding their roofs.
We offer exceptional warranties on all roofs!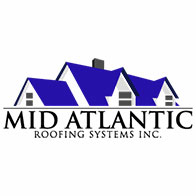 Starting at a minimum 20-year warranty and up, depending on your roof type!
Ongoing Roof Maintenance
As a property owner, you understand the importance of protecting your investment. As your commercial roofing contractor, we understand the importance of your investment as well as the need to protect and care for your roof over the many years ahead. And although your roof comes with a manufacturer warranty, there are many things that can affect the life of your roof that are not covered by the warranty.
With so many possible adverse effects on your roof, it's highly recommended that you inspect your roof at least once a year and after severe weather. And who better to inspect your roof than the contractor who installed the roof to begin with? No one else is more familiar with your roof and the many facets that go into a full roof inspection.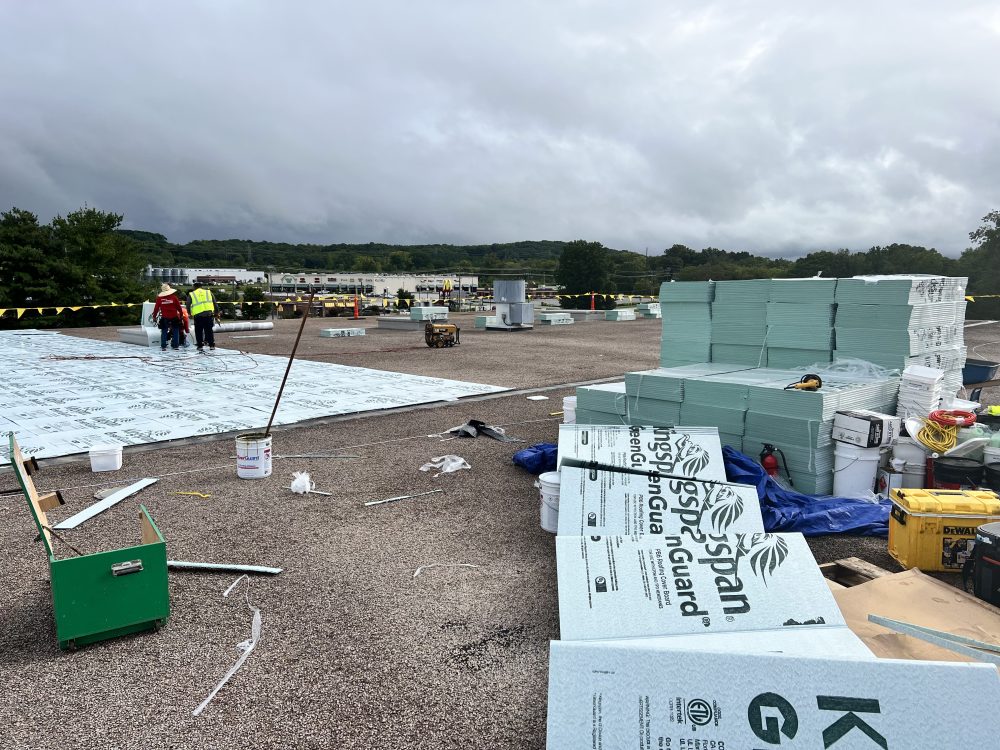 Roof Problems Not Covered By Warranty:
Lack of routine maintenance
Drains that are clogged, broken, or not functioning properly, leading to inadequate or insufficient drainage.
Gutters and downspouts that are broken or not functioning properly.
Improper repairs and/or materials by unauthorized contractors.
Damage caused by animals or insects.
Structural problems, building movement.
Hail, wind storms, heavy snow loads, hurricanes, tornados, etc.
Contamination of the membrane by harmful chemicals such as oil or solvents.
Damage caused by other trades (e.g., improperly installed equipment.
Excessive roof traffic.
Vandalism: impact from falling objects.
Metal Roofing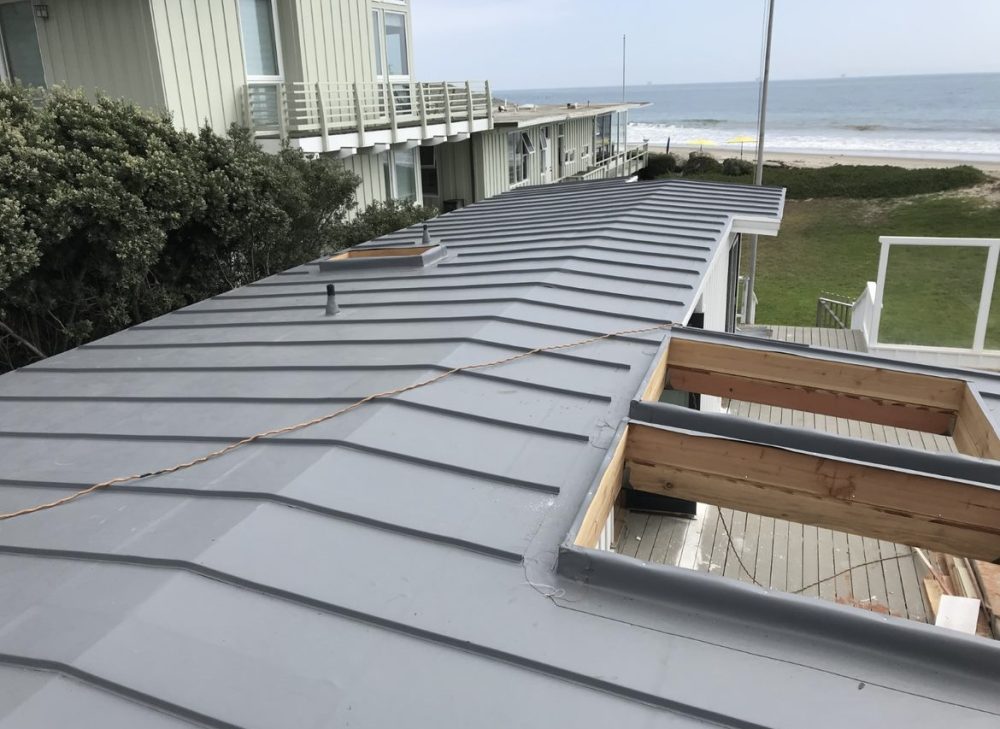 We provide a variety of high-quality, ENERGY STAR® rated, fluid-applied roof restoration systems specifically designed for metal roof surfaces. Our metal roof restoration systems are proven to stop leaks, reduce energy consumption, prevent rust and corrosion, extend roof life, and, most importantly, they cost half as much as a conventional roof replacement.
The beauty of a fluid-applied roof restoration system is that it is installed directly over your existing roof substrate. We specifically engineer our systems to restore, waterproof, and protect a variety of flat and metal roof membranes—all at a fraction of the cost of tearing off and rebuilding.
Benefits of Acrylic Roof Coatings
Acrylic roof coatings are among the most durable and inexpensive elastomeric coatings in the industry. Comprised of high solids emulsion polymers and potent biocides, these highly reflective coatings are ideally suited for extreme UV climates and provide superior resistance to mildew and dirt accumulation.
Acrylic coatings are often used to restore aged metal roofs, but they also work on a number of different roofing substrates, such as modified bitumen, single-ply, built-up roofs, and spray polyurethane foam. Acrylics are easy to work with and come in a variety of different standard, premium, and custom colors.
We Are A Carlisle Syntec Systems Authorized Applicator
Commercial Roofing Done Right
When it comes to your business's roof, you can't take any chances. As a Carlisle Syntec Systems authorized applicator, we have the experience and training necessary to handle any commercial or residential roofing project with the utmost care. We utilize the highest quality materials focusing on durability, safety, and energy efficiency. With the outstanding workmanship and customer satisfaction you've come to expect from us, our team at Mid Atlantic Roofing Systems Inc. will make sure your roof is in top condition. Contact us today to learn more about our commercial roofing services.
---
Give Us A Call For Commercial Roofing Services Today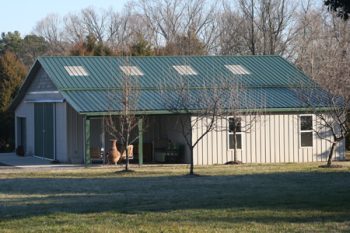 There are many reasons why roof repairs become necessary, including hail damage, wind damage and missing shingles creating a leaky roof. When you have a commercial roofing problem, your business suffers. That's why Mid Atlantic Roofing Systems offers complete service and repairs to keep your property running smoothly. We will even help work with your insurance company if you are filing a claim for your roof replacement.
Our team can handle any issue with your commercial roof repair needs – from minor leaks to major problems like hurricanes or tornadoes. If you're looking for reliable and high-quality service at competitive prices, call our commercial roofers today!
The Search For A Commercial Roof Repair Near Me Is Over
A commercial roof is a huge investment and it is your responsibility to keep it in its best condition. If you don't, you will lose money as the value of your property depreciates with every passing day. But how do you choose which commercial roofing company to hire? There are so many options out there that sometimes it feels impossible to know who can help you get the job done right.
Mid Atlantic Roofing Systems has been serving businesses throughout Charlotte, North Carolina, for many years. We have extensive experience working on all types of commercial roofs, from flat roofs to steeply pitched ones. Our team offers comprehensive repair services at affordable rates. You can count on us for quality workmanship and excellent customer service! Give us a call today for a free estimate!
How long should a commercial roof last?
With proper maintenance and inspections, a properly installed commercial roof can last 30 years or more. As with any roof, environmental conditions and poor care can reduce the life expectancy.
Can you replace just a section of roof?
Under normal circumstances, a section of roof can be replaced or repaired but may not qualify for a manufacturer's warranty. However, certain conditions may create a need for a full replacement in order to guarantee proper roof installment and protection.
What is the most common type of commercial roof?
The most common type of commercial roof we install today is PVC. PVC withstands weather, ponding water, and UV rays better than any other product. It also holds up better to conditions such as grease from restaurant vents or other contaminants. PVC is easier and more cost-effective to repair and more fire-resistant than other products. It comes in a variety of colors; however, a white PVC could qualify the building owner for energy-efficient benefits.