Gutter Replacement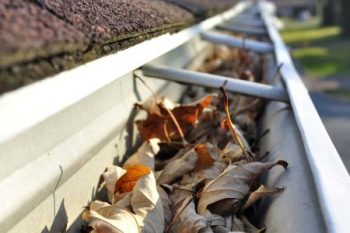 Having a reliable gutter system installed is one of the most important investments you can make for your home or business, as it plays a crucial role in protecting your property. Your gutters have one very important job, and that is to adequately divert water away from your home. Without gutters, heavy rains would erode the foundation around your property and infiltrate your siding, windows, and doors, causing water damage and mold. 
When you need gutters installed on your residential or commercial building, you want to ensure that the gutter contractor you choose has the necessary skills and experience to get the job done right. At Mid Atlantic Roofing Systems Inc. in Charlotte, North Carolina, we install Leafaway gutter systems to protect from leaf buildup and keep your property safe from potential problems. When we install Leafaway gutter systems on your property, you can rely on our one-year workmanship warranty plus a lifetime clog-free warranty from Leafaway. Additionally, if you've got 5 or 6-inch K-style gutters we can also install Shur Flo gutter guards to keep your system protected. You can rely on us for all your gutter needs!
Rain Gutters
Proper gutter maintenance is crucial to ensure the longevity and effectiveness of your gutter system. It is very common for leaves, twigs, and other debris to accumulate in your gutters and cause them to become clogged and overflow. Having a system with built-in gutter guards will help prevent this and provide optimal performance. Whether you need to hire someone for gutter cleaning services or you have the skills and equipment to do it yourself, it is essential that your gutters remain clear of any debris. 
If you are in the market for new gutters, it is important to work with an experienced gutter installer to understand all of the options available to you. There are many different kinds of gutters, from the material they're made from to the color and design. Some of the most common gutter materials include aluminum gutters, vinyl gutters, zinc gutters, steel gutters, and copper gutters. 
Aluminum gutters are by far the most popular choice because they are lightweight, resistant to rust, durable, and available in a wide range of colors. When it comes to the style of gutters, K-style is the most prominent choice. Older homes built before the 1960s had half-round gutters installed. These gutters don't hold as much water as the K-style, and their rounded design prevents them from being installed flush against the fascia boards, which makes them prone to a variety of problems. 
Seamless Gutter Installation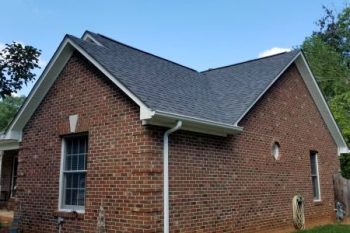 Gutters can be easily damaged in high winds or heavy rain, which could lead to serious water damage inside your home. This is why it's important to hire a professional roof and gutter company like Mid Atlantic Roofing Systems! Our team will inspect your roof and install new gutters that are custom-made for the shape of your roof. We also offer seamless rain gutter repair services if you have existing gutters with cracks or holes that need fixing before they cause any more problems.
Your gutters are an integral part of your roofing system. Without properly functioning gutter systems, you could be in for some serious problems. At Mid Atlantic Roofing Systems, we take the time to install your roof gutters with care and precision. We're a team of professionals who are dedicated to keeping your roof secure and your home safe from water damage. Our experienced technicians will also check for any signs of leaks or other issues before we leave, so you can rest assured knowing that everything is looking great on top!
Gutter Installation Near Me
Whether you're looking for seamless aluminum gutters for your home or commercial gutters for your business, our team at Mid Atlantic Roofing Systems is here to help. When you call us, we'll send an expert gutter contractor out to examine the condition of your current gutters and walk you through our process step-by-step. We strive to provide the highest quality seamless gutters and gutter guards you need at the affordable prices you deserve. Give us a call today for a free estimate!